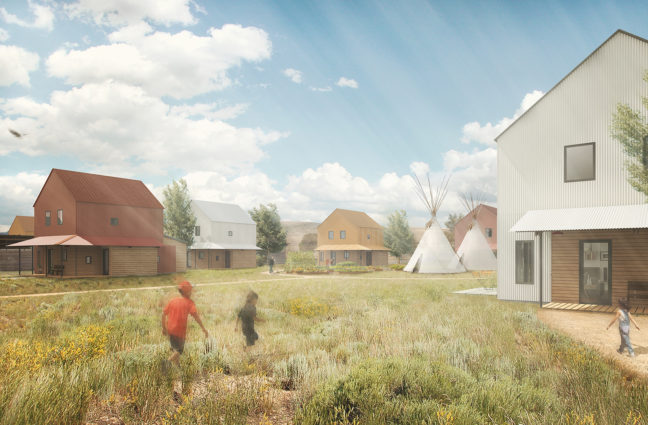 May 5th 2016
PINE RIDGE INDIAN RESERVATION, May 3rd, 2016 –– The groundbreaking collaborative community design project, the Thunder Valley Regenerative Plan, has been selected as one of the 60 design projects to be featured in the By the People: Designing a Better America Exhibition this fall at Cooper Hewitt, Smithsonian Design Museum. The exhibition will run September 30th, 2016 through February 26th, 2017.
THE PROJECT & DESIGN TEAM
Years in the making, the Regenerative Plan is a visionary design collaboration between local Pine Ridge Indian Reservation community members, Oglala Lakota 501c3 non-profit organization Thunder Valley CDC, and architecture firms BNIM and Pyatt Studio, with essential support from KLJ Engineering and Studio NYL Structural Engineers. This project is Lakota culture materialized in a built environment –– an entire eco-friendly, climate change adaptable community built from the ground up with Lakota culture & values in mind. Informed by innovative, community driven architectural design and rooted in the voices and values of Lakota people, this project takes a comprehensive approach to creating systemic change on the Pine Ridge Reservation. The project's Design Team reflects what is possible when collaboration is based on mutual respect and a shared vision for the future.
"The ancestors posed a challenge to us: 'How long are you going to let others determine a future for your children? Are you not warriors? It is time to stop talking and start doing…Anything is possible, but you need to take action. The moment is here; the time is now.'" – Nick Tilsen, Thunder Valley CDC